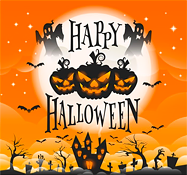 It's time to start thinking about a killer surprise for your lady. Although it's already been a scary year, there are still ways to have some old-school spooky fun this Halloween. Over the centuries, the Halloween customs have turned into ones of partying, apple-bobbing, sweet eating, and more.
Halloween Delivery Set 2020 is available for ordering.
A themed balloon will bring lots of cheer, a holiday candle
will light up the surroundings on this scary night,
a large box of sweets
will help your girl to forget about her fears and enjoy it with delight thinking of You!
This year delivery goes with reusable fabric facemask with a fashionable or funny print that is available for order with any other gift for your lady!